Koordenfabriek Van Houte Exsil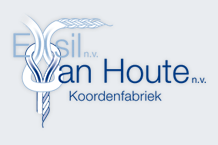 Inspection of ropes
During use, ropes should be regularly inspected over the entire length and it is recommended to keep a record of the inspection results.

However, visual inspection can only give an indication of the condition of the rope. Residual rope strength can only be measured through breaking tests. Some discard/repair criteria are given in the table below.
Discard/repair criteria
Damage
Repair / resplice (if local)
Discard
ALL ROPES
More than 25% of the fiber broken
X
X
Shock load – overload: inconsistent
diameter/texture/stiffness
X
X
Exposure to extreme temperature
X
Glazed areas
X
X
Heavily powdered / abraded internal strand areas
X
Progressive heavy surface abrasion
X
X
UV damage: discolored, splintered and powdered surface
X
Chemical exposure: discolored rope sections other than usual soiling
X
X
Terminations: check splices and tucks for movement or misalignment, abrasion or damage of the eye crown and eye protections
X
BRAIDED COVER AND CORE ROPES
De kern is zichtbaar doorheen de mantel maar niet beschadigd. Herstel de mantel.
X
X
Beschadiging van de kern: gebroken of zwaar geschavielde garens of strengen
X
X
Verschillende uitstulpingen over de volledige touwlengte
X
Chemical resistance
This table gives an indication of the resistance of ropes to chemical exposure.
| ROPE TYPE | Polyester | Polyamide | Polypropylene | HMPE | Steel wire |
| --- | --- | --- | --- | --- | --- |
| Acids | XXX | X | XXX | XXX | X |
| Alkalis | X | XXX | XXX | XXX | X |
| Solvents | XXX | XXX | XXX | XXX | XXX |







Exsil n.v. - Koordenfabriek Van Houte n.v.

Industriezone Hoogveld

Schaapveld 14

9200 Dendermonde

Belgium

T +32 (0)52 26 01 50

F +32 (0)52 37 18 98

E

info@exsil.be



webdesign by Feel Good Inc